Home Page

Multisensory Sound Lab Transforms Sound Into Light and Vibrations

The Multisensory Sound Lab was developed in response to a question posed by a science teacher at Gallaudet University's Model Secondary School for the Deaf . . .
"How do I teach my deaf students what sound is if they cannot hear?"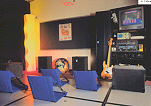 Developed under contract with the U.S. Department of Education, The Multisensory Sound Lab was the answer. The vibrotactile, multisensory sound system not only amplifies sound through loudspeakers, it simultaneously transforms sound into floor vibrations. These vibrations can be felt through the student's body and seen using many visual displays within the Lab. (Click on image for larger view.)
"The children absolutely love the LumaSound Lights!" - Beverly School for the Deaf, Beverly, MA

"The Multisensory Sound Lab here at Rochester School for the Deaf (RSD) continues to provide a stimulating learning experience for our students. As staff, we continue to search for and discover ways to use the Sound Lab to bring sound to life so that sound perception can be related to the environment around a student."

"We also focus on strategies to transfer sound/speech perception to speech sound production. We have had visitors from around the world to RSD and one of the highlights of their visits has been the Sound Lab because it is so very unique and multisensory." -- Jo-Ann M. Koch, Director Speech/Audiology & Communication Program, Rochester School for the Deaf, N.Y.
Oval Window Audio — The Only Company In The World Producing The Multisensory Sound Lab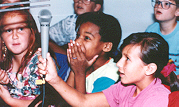 Initially created for teaching the science of sound to deaf students, the Multisensory Sound Lab has many applications. Over the past 15 years, its uses have been expanded to include:
Occupational and physical therapy
Click on any of the above underlined topics to read related articles.
"The Sound Lab motivates normal hearing, hard of hearing and deaf students of all ages to experiment with and learn about sound. For speech therapy, the Sound Lab provides motivating reinforcement of vocalization and speech sound production." --Kimberly Fisher, Ph.D., Department of Communication Disorders, University of Oklahoma, Oklahoma City

"I like the sound waves. Even though you can't see them, you can feel them. Waves are really something. The whole Sound Lab was cool!" — Second grade public school student
Click here for even more details about this user-friendly modular system.

E-mail Oval Window Audio Today

The Multisensory Sound Lab is custom-made to fit your budget and program requirements. For more information and pricing details, e-mail us directly. One of our representatives will get back to you promptly. info@ovalwindowaudio.com
---
// Induction Loop Assistive Listening Systems // Induction Loop Receivers // Induction Loop Testing Equipment // Loop Systems & Accessories Pricing & Ordering // Contact Us
---
This site created with the help of The Write Direction.