Home Page

Combining Vibrotactile and Visual Technology With Sound


The Multisensory Sound Lab's innovative vibrotactile and visual technologies make it possible for students, sitting or standing, to feel sound vibrations through the floor.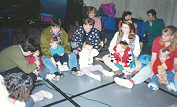 Electronically processing sound signals from microphones, musical instruments, recordings, the vibrotactile sound system directs them to loudspeakers and the special vibrating floor. The vibration technology translates sounds as follows:
Low pitch sounds are perceived as slow vibrations.
High pitch sounds are perceived as fast vibrations.
Intensity and rhythm information are also perceived through the vibrating floor.
Making Sound Visible
The Multisensory Sound Lab's Visualizer is an audio spectrum analyzer that displays the harmonic content of sound on a color TV. The spectrum analyzer's vertical bars change in location and height depending on the characteristics of the sound. The 7-foot Lumasound Light's three banks of colored lights responds to different frequency bands and intensities of sounds
"We are in heaven with our new Sound Lab! Our eyes filled with tears as we watched our middle school students' excitement as they experienced the new & wonderful Multisensory Sound Lab!" - California School for the Deaf, Riverside

"Being able to experience several modes of input (auditory, tactile, visual) has allowed students with perceptual and/or learning problems the luxury of drawing up their sensory strengths, thus compensating for their weaknesses." --Alice-Ann Darrow, Ph.D., Art & Music Therapy Department, University of Kansas, Lawrence
Accessories for the Vibrotactile Multisensory Sound Lab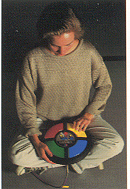 Additional accessories for this vibrotactile multisensory experience include:
Oscilloscope
Electronic stethoscope
Giant slinky
Drum machine
Tone generator
Simon game
CD/cassette players
Drums
Click here to read articles related to the Multisensory Sound Lab.
BACK to previous Multisensory Sound Lab Page, click here.

E-mail Oval Window Audio Today
The Multisensory Sound Lab is custom-made to accommodate your classroom requirements. For pricing information, please contact us. Please e-mail your message to info@ovalwindowaudio.com One of our representatives will get back to you promptly.
---
Induction Loop Assistive Listening Systems // Induction Loop Receivers // Induction Loop Testing Equipment // Vibrotactile/Multisensory Sound Lab // Loop Systems & Accessories Pricing & Ordering // Contact Us
---
This site created with the help of The Write Direction