Home

TM-1 Conference Table Microphone for More Natural Sound & Lower Noise Levels



Oval Window Audio's TM-1 table top conference microphone is designed especially for use with assistive listening systems and conference recording systems where individual or pass around microphones cannot be used.


When the TM-1 is placed on a table, the 2 inch triangular shaped boundary microphone effectively picks up speech signals up to 6 feet away. Several of the microphones may be linked for larger area coverage.

Advantages of this unique boundary conference microphone over conventional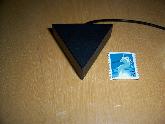 designs include: clearer more natural sound, lower noise level, low vibration sensitivity and minimal visibility. Typical applications for the TM-1 include: sound pick up at office desks, conference tables, counter tops and panel/round table discussions.


The TM-1 is compatible with Oval Window Audio's induction loop assistive listening systems and wireless microphone transmitters.
Compatible with all personal assistive listening devices employing electret microphones such as personal amplifiers, FM, loop and infrared systems.
Contemporary and unobtrusive design with large rubber feet that prevent skidding on any surface while reducing annoying table noises.
To enhance intelligibility, the microphone has been designed to provide a gentle emphasis of high frequency speech sounds.
The maximum recommended pickup range of the TM-1 is 6 feet. However, the usable maximum range may vary from 3 to 12 feet depending on ambient noise conditions and the individual users' hearing capabilities.
The effective pickup range can be expanded by daisy chaining two or more TM-1 microphones with accessory Y-splitters and extension cords. Most audio devices and systems can power several TM-1 microphones.
Only $79.95

E-mail Oval Window Audio Today
You'll find detailed information regarding most of our products right here online. However, if you have any questions, simply e-mail us directly at info@ovalwindowaudio.com One of our representatives will get back to you promptly.
---
Home // Induction Loop Assistive Listening Systems // Induction Loop Receivers // Induction Loop Testing Equipment // Vibrotactile/Multisensory Sound Lab // Loop Systems & Accessories Pricing & Ordering // Contact Us
---
This site created in collaboration with The Write Direction.