Home Page

Portable InfoLoop -
Compact & Self-Contained One-on-One System
The Portable InfoLoop is a completely self-contained, one-on-one induction loop assistive listening system. It's compatible with all telecoil equipped hearing aids, cochlear implants and induction loop receivers. Click here to learn how induction loop assistive listening systems work.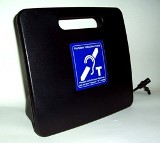 With the Portable InfoLoop, listeners receive the signal at a distance of up to 3 feet from the unit (click on above photos to see enlarged images). Weighing only 24 ounces and measuring 11" x 10" x 4", this transportable/table-top loop system houses a:
Built-in omni-directional microphone
Automatic gain control
Noise gating electronics
Loop wire antenna
5-8 hour rechargeable battery
"I recently acquired, for the first time, a Portable Info Loop for a hard of hearing client employed as a bank teller. Seldom have I been so impressed with the performance of a product designed for hard-of-hearing people. In addition to my client being quite thrilled by how well the Info Loop worked, I too was amazed at how well the system eliminated the background din of a busy bank while bringing the other party's voice to the fore for easy conversation in a difficult listening environment. I have a severe-to-profound loss and use a single BTE with T-coil."
- Mike Keeping, Equipment Specialist, Deaf & Hard of Hearing Society, Calgary, AB, Canada
Discover the Transportable Induction Loop Assistive Listening System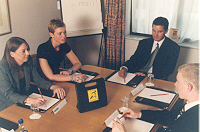 The Portable InfoLoop is ideal for meetings (left) information/sales counters, reception areas (right), vehicles and demonstration/quality control of hearing aid telecoils.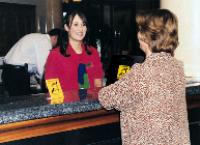 The Portable InfoLoop assistive listening system comes ready to use in a durable plastic case with convenient carrying handle. In addition, the unit comes with:
An LED display that provides constant visual monitoring of signal status and the battery's condition.
Choice of an external table top or omni-directional clip-on microphone with a 6 or 10 foot cord.
An AC adapter/battery charger.
Optional accessories include: Carrying case (shown here), Y cord for adding 2nd microphone and conference table microphone.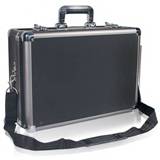 "My two Portable InfoLoops are my bread & butter for hearing! They provide the most clear and powerful aid in my arsenal of hearing technologies. I've begun to carry one with me when I walk on our church campus, with a microphone clipped to my shirt so I can converse with people. All this to say . . . my Portable InfoLoops are invaluable!" - Rev. George Posthumus, Riverpark Bible Church, Fresno, CA
"Works great!" - Paul Hughett, MA CRC, Office of Rehab Services, Rhode Island
"The Portable InfoLoop is a fantastic product! For vocational rehab, you can easily move it from the intake office to a counselor's office. As a hard of hearing person, I personally benefit by its usefulness in many office applications. All bank tellers, hotel front desks and airport counters should have one! And, what a wonderful tool for hearing aid dispensers." -- Randy Collins, Outreach/Training Coordinator, Arizona Technology Access Program, Phoenix, AZ
"The Portable InfoLoop probably saved our marriage! We used the device (with optional carrrying bag & headworn noise-canceling microphone) for a road trip in our recreational vehicle. We cannot say enough good things about it. It was much easier to talk and give driving directions to my hard-of-hearing husband. Thanks for your help! I highly recommend the product to folks who need hearing assistance." - Melinda
Feel free to email us at info@ovalwindowaudio.com for additional references.

Every Oval Window Audio induction loop system complies with the Americans With Disabilities Act and Technical Standard IEC 60118-4.
30-Day Satisfaction Guarantee!
Oval Window Audio is so confident our products will meet your communication accessibility needs that we give you a 30-day money- back guarantee. If for any reason, you are not satisfied, simply call us at (303) 447-3607. We'll be happy to issue a replacement or a refund.

E-mail Oval Window Audio Today
If you have any questions about the Portable InfoLoop induction loop system, simply e-mail us directly. One of our representatives will get back to you promptly. Just e-mail your message to info@ovalwindowaudio.com
---
Home Page // Hearing Loops // Induction Loop Assistive Listening Systems // Induction Loop Receivers // Induction Loop Testing Equipment // Vibrotactile/Multisensory Sound Lab // Loop Systems & Accessories Pricing & Ordering // Contact Us
---
This site created with the help of The Write Direction