Induction Loop Systems
&
Multisensory Sound Labs Proudly Made in the USA Since 1984

Oval Window Audio is the oldest company in North America producing a full line of induction loop assistive listening systems. In addition, we've developed unique visual and vibrotactile technology making it possible for deaf and hard of hearing individuals to experience sound.
Each of our induction loop assistive listening systems (ALS) is compatible with all telecoil-equipped (T-switch) hearing aids, cochlear implants and induction loop receivers. Click here to answer a brief questionnaire. Your answers help us make the best product recommendations to meet your specific requirements.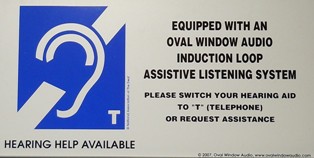 Oval Window Audio's products include:
Assistive Listening Systems for the Hearing Impaired
Whether you're a teacher with hearing impaired students in your classroom, an administrator or member of a house of worship with hard of hearing congregants, or a manager of a public facility, Oval Window Audio's induction loop systems allow you to make speech intelligible to everyone in your audience. Our state-of-the-art hearing assistance systems provide:
"Oval Window Audio's systems are the standard assistive listening system in the U.S. Capitol Buildings. We love them because they are inexpensive, they last forever, and require zero maintenance. Nothing else offers the convenience to hearing impaired people and the venue!" --Al Lakoymj, Architect of the Capitol, Washington, D.C.
"This morning I spoke with Pastor Hayes of Faith United Methodist Church in Grand Rapids about their new sound system. He said that: a) the system has been fully in place for about a month now; b) they installed it themselves and found the installation to be very straighforward; and c) their members, who have T-coil type hearing aids, are delighted with the system's performance." -- D. Kelly
Every Oval Window Audio induction loop system complies with the Americans With Disabilities Act and Technical Standard IEC 60118-4.

E-mail Oval Window Audio Today
You'll find detailed information regarding most of our products right here online. However, if you have any questions, simply e-mail us directly. One of our representatives will get back to you promptly. Just e-mail your message to info@ovalwindowaudio.com
---
Hearing Loops // Induction Loop Assistive Listening Systems // Induction Loop Receivers // Induction Loop Testing Equipment // Vibrotactile/Multisensory Sound Lab // Loop Systems & Accessories Pricing & Ordering // Contact Us
---
Site updated March 30, 2015
This site created with the help of The Write Direction.